Intentions

The primary intention of The Way Home farm on Cortes Island is to provide a Loving space that is supportive of people who are choosing to live their lives as human beings rather than as persons doing. 
The secondary intentions are to: learn to interact with each other from an inner state of Love; live in harmony with people, nature, and the spirit realms; and, prepare individuals to be able to hold a Loving space for others.
Visiting the Farm
We are open to short and long-term visitors from the middle of April through to the end of October every year.   We welcome anyone who shares the intention to shift from living a conditioned existence (as a person doing ) to living the life they incarnated to live (as a human being).  During your stay with us, you will be invited to participate in farm life, practice living from Love, learn your soul lessons, fulfill your soul purpose, partake in the evening communal meal, and attend the facilitated sharing circles and other sessions.
Please see the 'Guidance and Retreats' page on this website for more information.   Please contact us at info@thewayhometolove.com before coming to the farm to arrange a time to visit.  We will answer any questions and discuss the arrangements for your visit. 
Journey to Date
We have completed three seasons (April to October) on the farm and have learned so much.  Our primary lesson has been to let go of our desires for what the space is to be, and to instead allow Love to shape it.
The farm is 12 acres and has: a house with 2 guest bedrooms and a communal bathroom; a guest 'suite'; a communal kitchen; a yurt as a sacred space; a seasonal wall tent; camping areas; a pond; a water storage system; an orchard; a barn; a chicken coop; a greenhouse; a workshop; and, an organic garden.  It is also has a small ceremonial stone circle.  It feels like a little piece of heaven to us.
The farm is not zoned for, nor is it large enough for, a community.  It is not intended to be a site for a 'Community of the Future' (go to the 'Books' tab for a booklet on these communities).  It is a space for those who are choosing to cultivate the ability to live as a human being and who may one day be a part of creating a community.
We have learned many lessons around running a farm.  We have learned about shepherding goats, looking after chickens, organizing a permaculture garden, processing the fruit from over 50 trees, setting up an irrigation system, growing mushrooms, gathering wood, and so much more.
However, our main lessons have been around creating a Loving space and communal living.  We made many mistakes in our first three seasons and have captured the lessons from those mistakes in the downloadable document titled 'Lessons Learned – Creating a Loving Space'.
We will be incorporating these lessons and opening up to visitors again in April, 2019.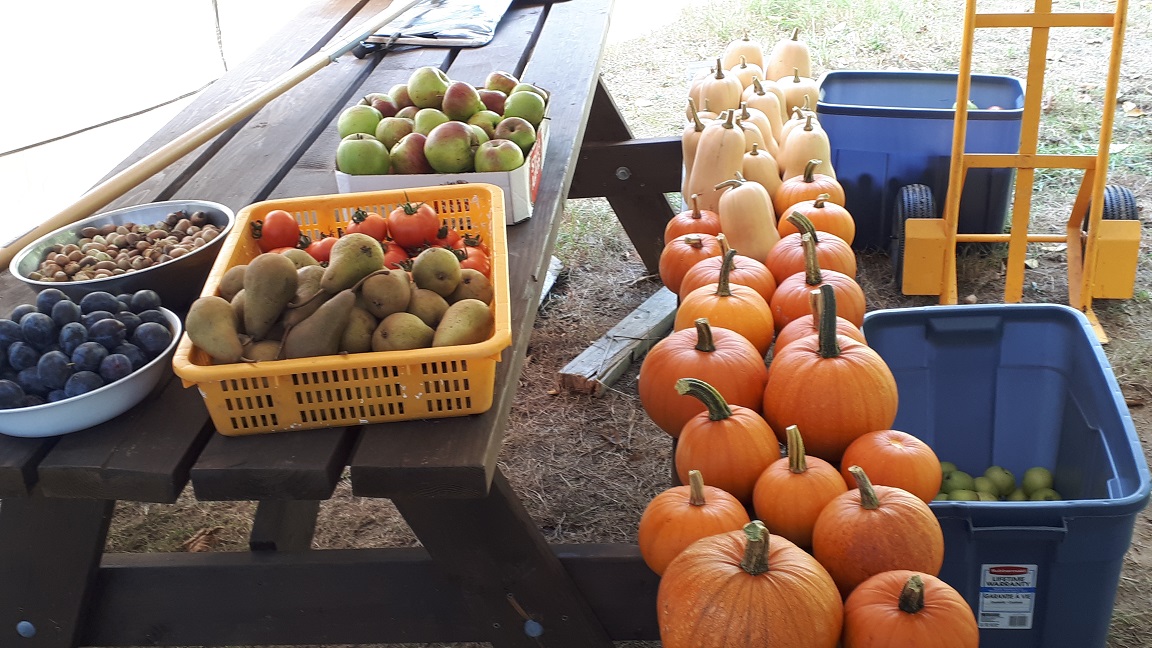 Garden
We are growing greens, peas, corn, asparagus, zucchini, cucumber, potatoes, and much more.  The herb garden has been started and there are over 50 fruit trees plus a variety of berry bushes.  We have also built a greenhouse and have winter lettuce.
The Way Home 'Community House'
We have a 4 bedroom house to gather in.   It is a simple structure and feels like home.  We also have a suite, a seasonal wall tent, and plenty of camping space.  At some point, we would like to add a cabin.  We will see how life unfolds.
Sacred Space (Yurt) and Wall Tent

We have put up a 24 foot yurt as our sacred space for gatherings and retreats.  We have also built a wooden platform, on which to put a 16 x 14 foot wall tent, with an artistic 'Cortes Style' outhouse behind it.  The tent is a gathering space for campers and can also be a 'glamping' space.
Barn and Chicken Coop

We have a barn that has been set up to house both goats and chickens.  We had five goats for our first two seasons on the farm and have chosen to move on from goats.  We found that they were a tremendous amount of work and that we needed a more complete infrastructure to be able to care for them properly.  We now have a brood of chickens and are learning about caring for chickens and integrating them into farm life.
Fields / Future Playground

There is plenty of open space for expanding the garden and for building a cottage, sacred space, meditation garden, and a children's play area.  Bodhi was born in October of 2017 and is the first child being raised on the farm.  There are other children in the neighbourhood and we would love to be able to provide a space for children to gather.
Farmers Market

The island has three farmer's market at Manson's Landing, Squirrel Cove, and the Gorge in Whaletown.  We attend the Whaletown market every Saturday from May through September as it is the closest one to us.  We sell berries, baked goods, tapestries, apple cider, and any over abundance from our garden and orchard.
Nature
We have a few deer that love to the roam the property and seem more than happy to hang out with us.  The bottom third of the property is a wetlands and our intention is to leave that in its natural state for all of nature's creatures.